Overview
AFSIC – Investing in Africa is a large scale Event and Expo focused on matching business and investment opportunities in Africa. The event has grown over many years into one of the most important conduits of investment into Africa. Notable characteristics include:
The event is attended by many of Africa's most important investment firms

Networking is at the heart of AFSIC with multiple events allowing companies to meet appropriate investors

Dedicated Country Summits allow deep dives into some of Africa's most important economies

Sector Focused workshops and sessions allow companies to focus on one or more of Africa's high growth business sectors; e.g financial services, energy, agriculture, health etc.

Sophisticated AFSIC African Investments Dashboard allows companies to upload investment propositions that can be viewed by Africa's leading investors prior to AFSIC so that highly efficient investment meetings can be held within the AFSIC event to finalise investment deals

AFSIC – Investing in Africa builds on a massive network across Africa, and high profile digital platforms enabling companies to grow their business, trade and investment across the African continent


 
Agenda
View the agenda on the following link: https://www.afsic.net/agenda/
 
Registration
The Economic Development Board Mauritius is delighted to sponsor the AFSIC - Investing in Africa 2022 conference and is pleased to offer a discount of 20% off on the standard delegate rate when registering online - https://www.afsic.net/delegate-registration/  
The discount code AF22-20 will be valid until the 31st August 2022.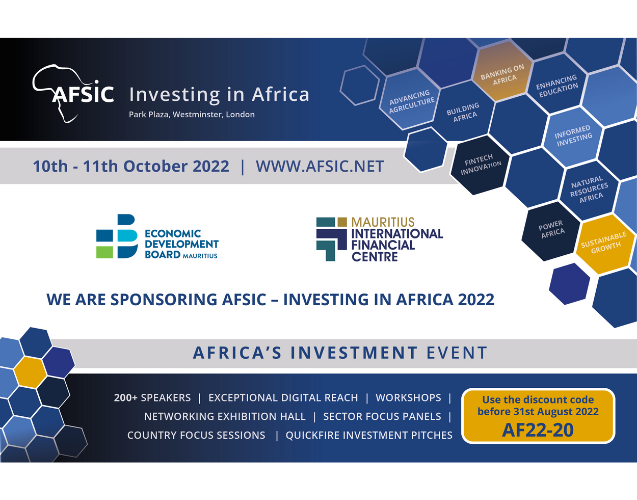 For more information, please call on 203 3800