The insurance industry in Mauritius is very competitive, says Bipin Ragoo, Senior Manager, Technical, Motor & IBU, Captive Solutions at Swan General Ltd, and there has been an interesting growth in the number of digital distribution channels which allow insurers to significantly increase their reach. He explains how the launch of the InsurTech app SWAN SafeDrive, developed by Cambridge Mobile Telematics, is actively contributing to the improvement of road safety in the country.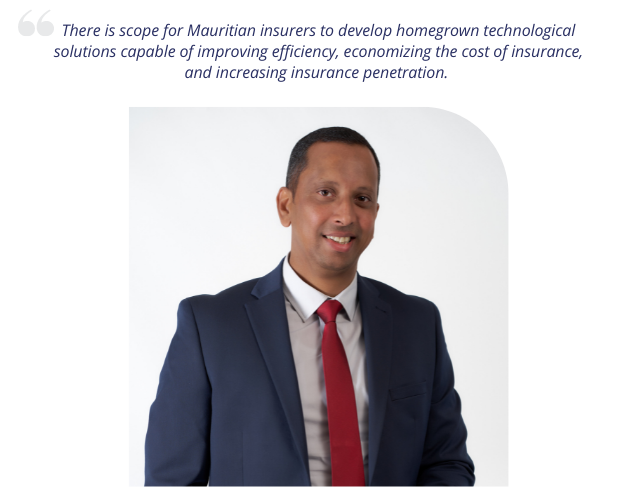 How do you see the insurance landscape in Mauritius today?
Mauritius is a mature insurance market with a relatively high insurance penetration rate when compared to other markets in parts of Africa or India.
There is a strong demand for insurance of vehicles, property, health, and other insurances. The growing life expectancy, tax incentives on insurance products and favourable savings associated with insurance stimulate the uptake of insurance.
The insurance industry in Mauritius is very competitive. There are currently 15 general insurance companies which not only compete, but also deal with risk retention groups, government and self-insurance. For insurance companies, competition is mainly on the quality of services and price. 
There has been an interesting growth in the number of digital distribution channels which allow insurers to significantly increase their reach. InsurTech, messaging platforms and online sales channels are contributing to insurance development in the country.
The insurance market globally is moving towards greater use of technology and InsurTech solutions. How is SWAN adapting to this new world of innovation and digital transformation?
Information technology has completely rearranged the way people experience the world today. Mobile phones, GPS devices, personal computers and wearables, among other technologies, directly impact our daily lives. 
Insurance has embraced these developments and insurers have devised applications and systems which do not only bring convenience to the client but help improve the whole insurance experience. With the use of applications such as mySwan, customers can monitor and manage their insurance policies from anywhere in the world. 
Processing times have been significantly shortened by eliminating the need to visit SWAN offices to submit a health claim following a visit to the doctor. Customers can now submit the claim via the application and receive their claim payment directly in their bank account in record time. 
SWAN continues to develop its technology and systems to better serve clients, especially considering the COVID-19 pandemic.
In August, SWAN announced SafeDrive as a new car insurance initiative developed in partnership with Cambridge Mobile Telematics (CMT). What inspired SWAN to launch SafeDrive?
Over the years, the volume of traffic has continued to increase on our roads. Road traffic accidents continue to claim lives and cause serious social and economic challenges.
Most of these accidents are caused by human error and are avoidable. 
Being a leading motor insurer in Mauritius, SWAN saw an opportunity to contribute actively towards the improvement of road safety in the country. The SWAN SafeDrive, developed by Cambridge Mobile Telematics (CMT), the world's largest smartphone telematics provider, is a user-friendly and accurate application capable of assisting drivers.
Using the smartphone and the tag's sensors, the application measures risky driving behaviours like speeding, hard braking, sharp turning, sudden acceleration and phone distraction. It then provides users with a score and tips that will help them improve their driving habits.
Statistics from our developers show that after 30 days of active use, drivers reduce phone distraction by 39%, reduce speeding by 30% and reduce hard braking by 51%. 
The more our drivers adopt responsible driving behaviours, the safer our roads become. It goes without saying that road traffic accidents pose a significant economic burden to affected individuals and the nation at large. Therefore, SWAN SafeDrive hopes to play a significant role in reducing the economic costs of road accidents and to help save lives.
How does SafeDrive work and what has been the feedback from users so far?
SWAN SafeDrive runs on hundreds of different phones, using sensors to detect driving behaviour. The easy-to-use app is paired with a simple stick-on Tag to give an extra layer of ground truth, providing the most accurate telematics data available. 
SWAN SafeDrive is a passive application which works in the background, which means that the user does not need to start the app each time a new trip begins. The tag helps identify the car being driven, allowing only trips taken in the registered car to be recorded, thus significantly improving the accuracy of the app, and optimizing phone battery usage.
The mobile app is built to be easy-to-use and engaging. Drivers receive timely feedback on their driving resulting in significant improvement in just 30 days.
A unique feature of SWAN SafeDrive is the Crash Detection capability. This is an automatic function built into the tag, which can pick up severe impact on the vehicle, allowing us to gather information quickly and accurately to respond accordingly, for example, by deploying roadside assistance to the exact accident location within a short time. 
SWAN SafeDrive also provides rewards and badges to keep users engaged. Every customer onboarding SWAN SafeDrive receives an initial reward of Rs 500 via a Total Card provided free of charge at enrolment. They then receive up to Rs 200 credit on their total card each month based on how they drive. A further Rs 1,200 is available to the number one driver of the month.
Since it has been launched, SWAN SafeDrive has received impressive feedback from its users. One notable behavioural change has been the awareness of the need to reduce or eliminate phone distraction for drivers. Similarly, clients have become more aware of the need to drive within the speed limit and plan their itinerary beforehand. 
The convenient reward paid onto a secure card has also been a key motivator for our clients. 
With increasing digitalisation seen across the financial sector in Mauritius in the wake of the pandemic, how do you see the outlook for further digitisation in the insurance market in Mauritius? 
With the increase in data availability and connectivity comes an unlimited scope for innovation. In developed markets, we have seen increased use of machine learning and artificial intelligence in insurance. 
An interesting example is On-Demand insurance, which allows users to be responsible for how and when they need coverage. Customers can decide when to turn off and on, their coverage, leaving their monthly premium adjustment based on when needed in the customer's eyes.  
While the local market may not be ready for such significant developments, there is scope for Mauritian insurers to develop homegrown technological solutions capable of improving efficiency, economizing the cost of insurance, and increasing insurance penetration.