The Business Forum on Private Banking and Wealth Management was held on 7th December 2021, at the Dubai Expo 2021, during the Finance and Investment Week. The Honourable Mahen Kumar Seeruttun, Minister of Financial Services and Good Governance was present. In his keynote speech, the Minister welcomed the launching of the guidelines on private banking by the Bank of Mauritius. He stated that this initiative by the Central Bank came at an opportune time. He added that the purpose of this Business Forum was to ensure that the palette of banking and financial products and services which Mauritius has to offer is recognised globally.
The Minister highlighted that the Mauritius International Financial Centre (Mauritius IFC) is home to a number of international banks, legal firms, corporate services, investment funds, private equity funds and family offices. This is a testimony that Mauritius has the adequate environment for wealth management. The Mauritius IFC offers a plethora of competitive financial products including private banking, global business and investment banking amongst others.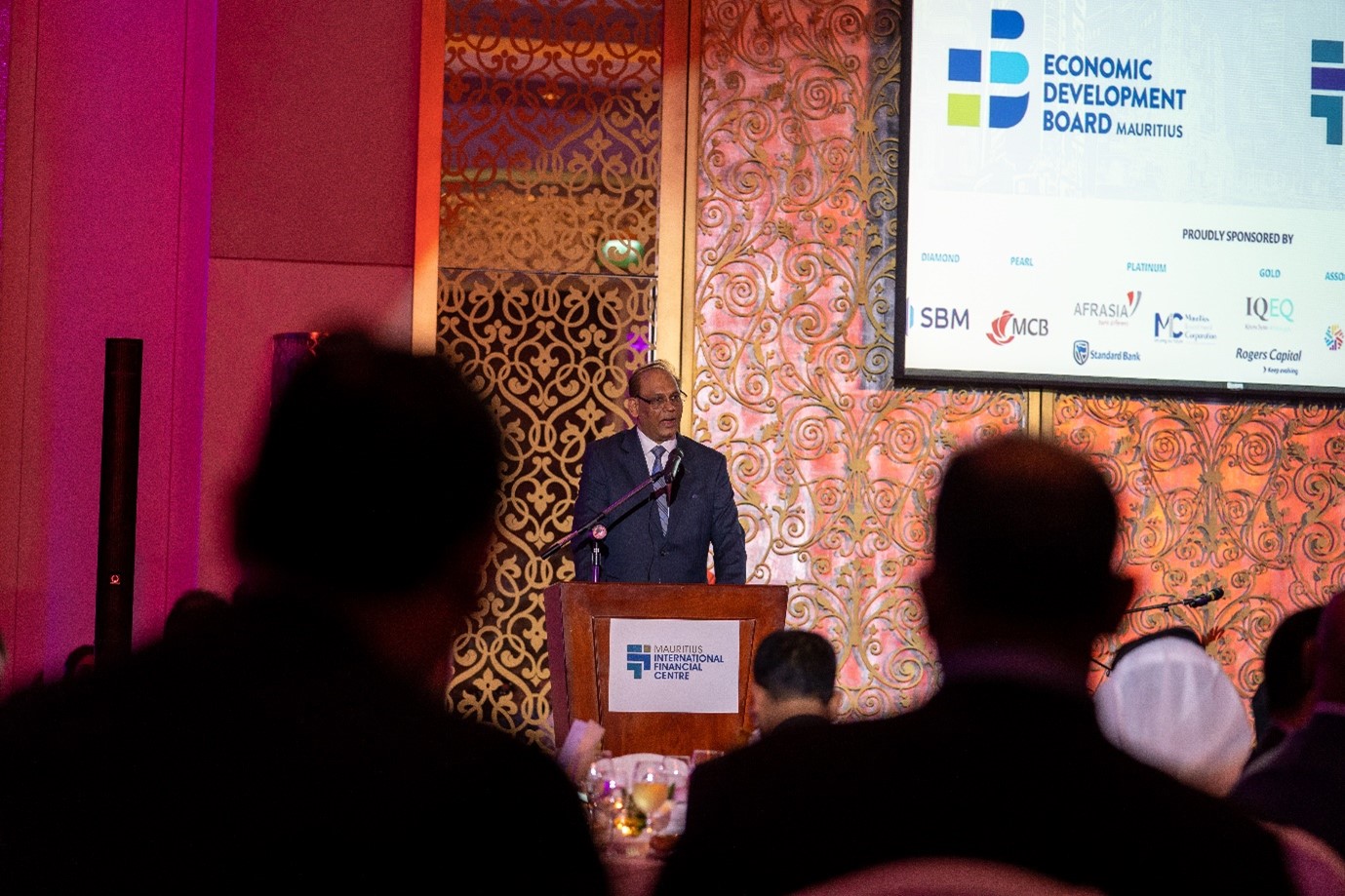 He further added that Mauritius offers the right attributes in terms of credible solution offerings, risk mitigation and confidentiality assurances, as a viable platform for wealth management for High Net Worth individuals. Mauritius has over the years positioned itself as a reputable and attractive International Financial Centre in the African region, enhancing investors' confidence.
The country's sustained track record relies mainly on its ease of doing business, human capital, infrastructure, a well-regulated and transparent financial services sector, adherence to international norms, standards and practices, adoption of a number of reforms to comply with the recommendations of the Financial Action Task Force (FATF), and the provisions of EU Directives on AML-CFT. In addition, Mauritius has tax treaties with several countries in the surrounding African region.
Furthermore, the Minister highlighted that the Government of Mauritius is taking quick and effective measures to ensure that the financial services sector will thrive and is constantly adapting itself to new trends and needs of the world. The capital requirement for a private banking license has recently been reduced from MUR400,000 to MUR200,000. This will enable private banks which are in the niche market to opt for this dedicated license. With the new guideline, there is an interpretative clause which clarifies that now the private banking business focuses on providing personalised banking and wealth management services to high-net-worth customers through dedicated private bankers.
The Central bank also launched their guidelines on digital banking which allows a private bank to operate as a digital bank. This represents a ground breaking change in the banking landscape of Mauritius. Today, with the digital world, wealth is created within seconds and with that personal and family wealth continues to grow rapidly across the globe driving increasing demand for wealth management services. Individuals and families require all types of wealth solutions. Interest is particularly strong in investment and portfolio management, estate and inheritance planning, and real estate and financial advisory and the Mauritius IFC stands apart with its platform to serve these regional customers.
Mauritius is also constantly innovating its legal and regulatory framework in line with global market demand. There have been significant improvements in the Mauritius legal framework to enhance investor confidence and trust in the jurisdiction. The Minister stated that the country will continue to promote its good reputation, governance and expertise as a viable platform for the management of the wealth.