Mauritius recognises the importance of offering a safe and conducive platform for promoters and clients of FinTech products globally. With the recent launch of the crowdfunding regulations, Mauritius is further consolidating its position as a platform of choice for international FinTech players through regulatory leadership.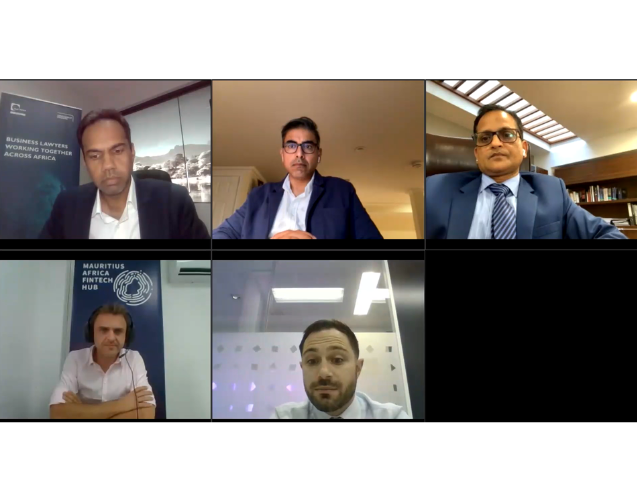 Sanne hosted a webinar moderated by Chris Thoume, Global Head of Digital Innovation at Sanne, featuring a panel of distinguished experts: Dhanesswurnath Thakoor, Chief Executive of the Financial Services Commission in Mauritius, Michal Szymanski , CEO of the Mauritius Africa FinTech Hub, Akbar Hussain Co-founder and General Counsel at Terrapay, and Arvin Halkhoree, Senior Associate - Barrister at Jurisconsult Chambers.
The webcast provides a practical overview of the Mauritius FinTech landscape covering a range of topics from current regulatory issues to the incentives being brought forward by the Government to facilitate the entrance of new players into the market. During the discussion, the speakers touch on the FSC's high-level commitment to develop Mauritius as a FinTech hub, not only in the region, but also worldwide.
Two important measures led by the FSC and the Bank of Mauritius are firstly to develop the innovation hub as a public hub for investors and start-ups to test their systems before rolling out to a larger jurisdiction, and the strong regulatory network with MOUs and Protocols put in place to support Mauritius in becoming a FinTech hub of excellence. They also discuss the rules and growing interest in crowdfunding by local and international players. 
Additionally, Terrapay, a corporate FinTech with an office in Mauritius, shared its first hand experience of working in Mauritius and explains why Terrapay chose the jurisdiction for its business. To conclude, each of the speakers gave their opinion on what is coming next for the FinTech ecosystem in Mauritius.
Watch the full webcast below:
Sanne Webinar / Mauritius, propelling FinTechs to success - Panel with industry leaders from Sanne on Vimeo.